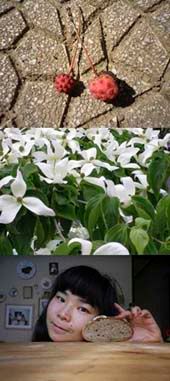 i baked bread using
Benthamidia japonica (yamaboushi) natural yeast
this fruits taste very tropical like fruta de conde(sugar apple)
i used to have in brasil when i was a kid.
what a magic! i dont know how or what,
sent of the bread baked with this,
is amazingly sweet and seductive!
even insects came to visit this bread
i had to smell magical something wondering....
as if i am a cat who was given a cat nip!
such a pheromone bread!
家のやまぼうしの実を拾って酵母をつくった
やまぼうしの実は小さい頃ブラジルでたべた
フルッタ デ コンデ(シュガーアップル)に
とっても似ていてクリーミーでトロピカル
小さくて種ばっかりだけど。。。
パンにして焼いたら
それが放つなんともいえないものすごく甘い誘惑に
なんどもにおいをかいでしまった
虫までたくさんやってきたくらい
あたしもまたたびを与えられた猫みたいになった
こういうのをフェロモンというのかな?