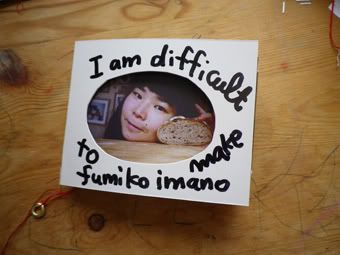 helloo, i made a new book called "i am difficult to make".
it is a book about 16 photographs of wild yeast breads&my visage.it is a record of breads i tried to make again and again from 2010-2011.it is difficult to treat wild yeast and my life but when it succeeds, im super happy! i am difficult to make, breads are difficult to make, and then! this book is super difficult to make!!! it is taking ages to bind a copy.....
it will be seen at zine's mate art book fair special exhibition at Feminine --Artists' Publications by Women in the U.S. and Japan-- for the first time. i guess? edition 200. but i dont know if i can manage to make 200??? i let you know if i can not in the end!! sorry, it takes time to make so i can not give it away to friends easily!
"i am difficult to make"という天然酵母で作ったパンの2010−2011年の16枚の写真;パンと自分の表情を収録した本をつくりました。果物から天然酵母パンをつくるのは自分の人生のように難しく、でもうまく出来た時の喜びは格別!あたしをつくるのは難しく、天然酵母パンもつくるのはむずかしく、そうタイトルをつけてしまったばっかりにこの本を作るのもむずかしくなってしまった。。。すんごい時間かかる作りになってしまったの。。。。
最初のお披露目はzine's mate art book fairの特別展示Feminine --Artists' Publications by Women in the U.S. and Japan--になるとおもいます。エディションは200です。200もつくれるかな〜?出来なかったらどこかで知らせまーす!
作るの大変でともだちにあげられないかも〜。ごめんね〜。
よろしくね!
"i am difficult to make" ¥2,100
edition 200
THE TOKYO ART BOOK FAIR 2011
開催日: 7月16日(土)、17日(日)、18日(月・祝)
場所: 3331 Arts Chiyoda 東京都千代田区外神田6-11-4
http://
www.3331.jp/schedule/001034.html

xxxfumiko